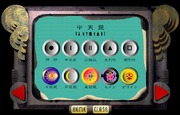 The Chu-Teng Board or Plate (中天盤 in japanese) is a Chu-Teng item. It's a guide of the world of Chu-Teng in a similar way to the Tong-Nou Illustrated Book.
Contents
Edit
Myth (神話)
Chu-Teng Map (中天図)
Items Guide (品物誌)
Light Biographies (光列伝)
Darkness Biographies (闇列伝)
Sun Board (日図盤)
Moon Board (月図盤)
Star Board (星図盤)
Sein (セイン)
Zakoin (ザコイン)
図盤 can be translated as "illustrated plate" and "circuit diagram".
Ad blocker interference detected!
Wikia is a free-to-use site that makes money from advertising. We have a modified experience for viewers using ad blockers

Wikia is not accessible if you've made further modifications. Remove the custom ad blocker rule(s) and the page will load as expected.