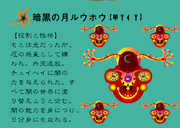 Moon of Darkness Ruuhou
(暗黒の月ルウホウ in japanese) is a
Chu-Teng
creature.
Dialogues
Edit
Japanese
English
われらは暗黒の月ルウホウなり。

3つの宮どもがわれらを厄をもたらす惑星として 外天に追いやりおった。

We are the Moon of Darkness Ruuhou.

The three shrines have driven us, as planet that bring disaster, into Ge-Teng.

宮はわれらを外天へ放り出して黄道門を閉ざした。

われらは外天で震えながら、 どれだけ光輝く中天に焦がれたことか。

The palace has expelled us into Ge-Teng and shut the Ecliptic Gate.

Oh, how much we yearned for the glittering Chu-Teng while we were trembling in Ge-Teng.

光がわれらを見捨てたあと、われらは闇の力を得た。

漆黒空間の支配の下、われらは暗黒の月となる。

After light had forsaken us, we attained the power of the dark.

Under the control of the pitch black space, we became the Moon of Darkness.

おまえの持つ七つ玉ユイバオなぞ非力なものよ。

われらと戦ってみよ。

The Seven Yuibao Orbs you possess are powerless objects.

Just try to fight me.
Ad blocker interference detected!
Wikia is a free-to-use site that makes money from advertising. We have a modified experience for viewers using ad blockers

Wikia is not accessible if you've made further modifications. Remove the custom ad blocker rule(s) and the page will load as expected.